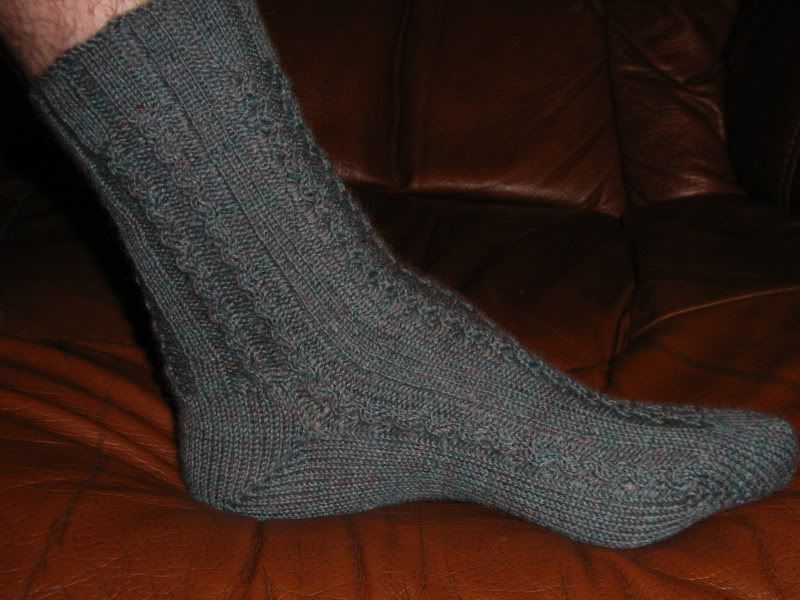 Can I first of all say that the bit of hairy leg you can see in the photo does NOT belong to me! This is DH modelling the first sock I've ever knit for him - I thought after making 40-plus pairs (and none for him) he might be feeling left out, so these are for him.
I originally started knitting these in "egg yolk yellow" yarn that I had in my stash but I really didn't like the yarn/pattern combination. So I frogged and used some more yarn from stash - this is Angel Yarns 4-ply sock yarn in shade #3032, a sort of heathery green/grey. It's 80% botany wool and 20% polyamide. DH thought it was more a "manly" shade and I tend to agree with him. It feels slightly thinner than other sock yarn I've used and is knitting up at 9sts per inch instead of my usual 8sts. But that's good, it's giving me a firmer fabric - which with any luck will stop DH's toe nails going straight through! ;0)
I'm really enjoying this pattern, although I altered it slightly and did my usual short row heel instead of the flap, simply because I prefer the fit it gives me. I'm hoping to cast on #2 tomorrow and *fingers crossed* will get them finished before the end of the month.