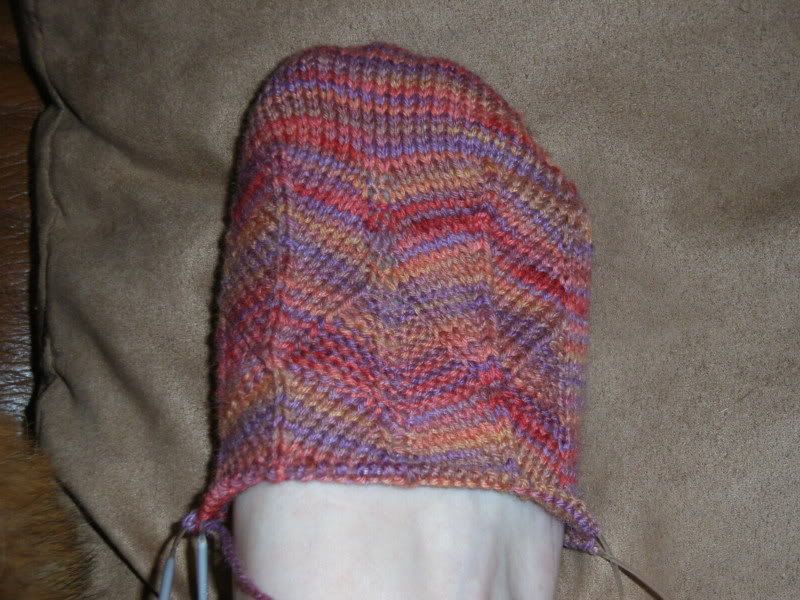 I couldn't wait to cast on for these when I came home from work but had the tea to cook and wash up first. Then bathed DS and he went to bed. Only then could I get started (at about 8.30 p.m.).
I had a bit of a dither earlier about which yarn to use from my stash. I have some very bright Posh Yarn - Surf 'n' Turf, which is bright green and blue - and I'd be quite interested to see how that knits up in this pattern. But for my first one, I thought I'd go for a more subtle yarn to show off the pattern.
I'm doing the small size (64 sts) and the yarn I'm using is Fyberspates 100% Bluefaced sock yarn on 2 x 2.75 mm Inox Grey circs. The colour is actually quite subtle in daylight - it looks much brighter than it is IRL in this photo. But then I was eager to share what I'd done and didn't want to wait for daylight tomorrow!
As you can see, I'm doing this toe up which is the method I always use now as I find it so much quicker and I prefer short-row heels. It's also handy because I've balled my yarn into 2 x 50g balls, so I can just knit until I run out of yarn. I haven't used Fyberspates Bluefaced before, so I'm not sure how far my 300m will go. It's looking quite promising at the moment though, so I should hopefully get a good leg length.
This is a lovely pattern which knits up really quickly, which is always a good thing. ;0) and Anni's charts and instructions are very clear and easy to follow.
Anyway, I really should get to bed now otherwise I'll be looking like death warmed up in the morning. Not a good look but unfortunately my usual one! ;0) That's what you get for staying up all night knitting!